Industrial Washer Pepper Chili Date Dry Cleaning Machine
Main Technical Parameters:
Output: 200-1000kg/h
Power: 3KW+2.2KW
Voltage:380V,50HZ,3 phase
Dimension: 2800*1000*2280mm
Weight: 600kg
Content
Chili Dry Cleaning Machine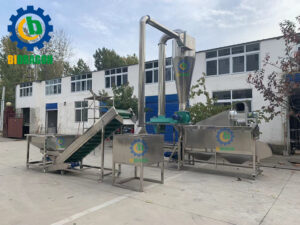 1. Application
Chili Dry Cleaning Machine is the most important step for chili processing, before we mill chili, we should clean the chili pepper clean, there are two ways to clean chili, one is wet clean—by water to clean chili, another is dry clean—by chili drying cleaning machine to clean, it's more popular for manufactures to choose dry cleaning machine to clean chili, in this way, the chili will become more drier and more easy to mill. Also this dry cleaning way can save water and increase work efficiency.
2. Main Technical Parameters:
Output: 200-1000kg/h
Power: 3KW+2.2KW
Voltage:380V,50HZ,3 phase
Dimension: 2800*1000*2280mm
Weight: 600kg
3. Work Theories and Usage:
There is rotary drum (inlaying brushes) installed in the machine. Through the rubbing of the chili peppers & rotary drum, the light impurities (dust) brushed away from chili peppers will be discharged by the draught fan, and the heavy impurities will fall to the two bottom outlets during the rotating of the drum.
More Spice Processing Machine