BCH400 Chili Powder Machine
Model:BCH400
Capacity:300-400kg/h
Fineness:30-80 mesh
Material:Stainless steel
Voltage:380V,50HZ,3 phase, can customize
Delivery method:by ship
Content
BCH 400 Chili Powder Machine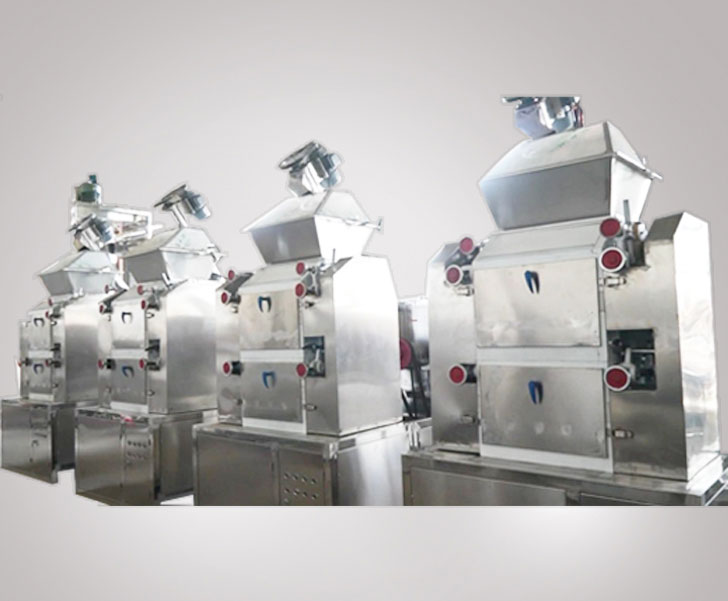 Whole plant of chili powder production line can be according to our common design , also can be customized according to different customers' requirements.
For our common design, suggested necessary machines is conveyor belt, pre crusher, buffer silo, magnetic separator, chili powder grinder, dust collector, and customers can add with chili destoner, chili dry cleaner, stem cutter, chili seeds remover if needed.
1.CHILI MOBILE CONVEYER WITH VIBRATING FEEDER
Uniform feeding of the raw chili and by mobile conveyor to the next machine.
2.CHILI DESTONING MACHINE
This is air flow destoner, through the gravity function, stoners fall down here and chili is delivered to following pipes and cyclone and down directly to the dry washer's feeding port. The dust and chili smell will be collected and expel out by adding another cyclone
3.CHILI DRY CLEANING MACHINE
This is chili dry cleaning machine, it's more popular for manufactures to choose to clean chili, Also this dry cleaning way can save water and increase work efficiency.
4.CHILI PRE CRUSHER
Chili pre crusher will hammer the raw materials into crushed materials, after this, material can be feed into grinding machine for powder.
CHILI BUFFER SILO
Raw material fall into the silo from the top of the machine, and through the auger discharged from the bottom, the mixer auger installed in the silo will avoid the material block the machine.
6.AUTOMATIC ADJUST ROLLER GAP WITH SIEVE CLEANER MILL
BCH series chili powder grinding machine is the patent machinery, by adopting the roller milling type producing spice powder.
By roller squeezing, instead of blade crush, it can keep material natural smell and color, which are the most attractive points to customers; it is no problem if for not remove seeds and stem.
MAGNETIC SEPARATOR
The machine use of high-performance permanent magnetic materials magnetic source, Convenient for iron remove, mainly used for a variety of food in removing iron when milling the chili powder
8.DUST REMOVER
Pulse duster belongs to bag-type high-pressure injection pulse dust catcher. It is reliable in performance, higher dust removal efficiency, simple operation& maintenance etc.
Main Technical Parameters for BCH-400
Output: 300-400KG/H
Size:50 meshfeed inlet less than 10mm
3.The voltage: 380V, 50HZ (based on customer requirement)
Material: Stainless steel 201
Automatic control roller gap and with compressed air blowing system(optional for different configuration)6. Whole line powder consumption: around 82KW7.Whole line occupation: around 25*3*3.5m for straight line
More Spice Processing Machine