This "green banana peeling machine" uses manual feeding and automatic peeling processing technology to quickly remove the peel of green bananas. It can produce 150-320kg of bananas per hour, and can realize peel clean and banana fruit meat complete. This machine can perfectly peel bananas of any curvature, of any size, and of any shape. The peeling speed is fast and the effect is good. This technology has obtained the national invention patent and filled the equipment gap of the international banana processing industry. It is also the first choice for the global banana processing industry!
Green Banana Peeling Machine Features:
1. The machine is fed manually, which is easy and free.
2. The machine peel banana clean, and the peeled banana fruit meat is smooth and undamaged.
3. The machine has a high output, which can peel 150-320kg per hour.
4. This machine is suitable for peeling green bananas of any size and curvature.
5. The peeled banana skin and fruit meat are separated and discharge out automatically.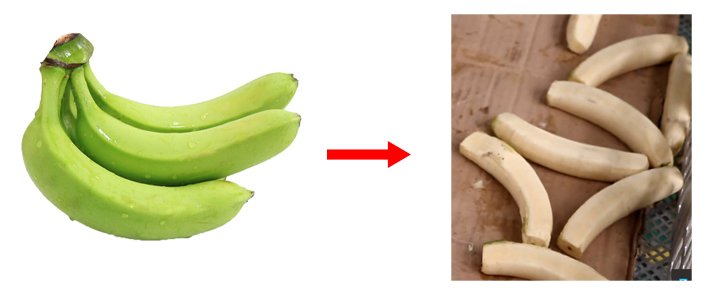 Green Banana Peeling Machine Working Video: