Onion Peeling Machine Application:
To all kinds of onions certain range for example 30-50mm,40-90mm, 60-120mm etc, also can customize range according to your requirements.no need to grade onions, no requirement to onion's original place, applicable to both dried and fresh onions.

Onion Peeling Machine Introduction:
The updated machine blows the onion skin away without making surgical incision in the onion skin and cutting two ends. The onions are not manually handled and the gentle manner of processing reduces spoilage dramatically. There is no odor or problem with "running eyes". The capacity of this onion peeling machine is about 2700 pieces onions per hour, this type machine has low processing cost and high processing efficiency.

Automatic Onion Peeling Machine Features
1. Full automatic, no spoilage to onions, easy operation and high peeling rate more than 95%
2. Adopts food grade 304 stainless steel, no pollution to the onions,healthy.
3. Complete dry peeling
4. Hygienic design (easy to clean and disinfect)
5. Low energy and air consumption, Big handling capacity
6. Convenient usage,automatically feeding machine,saving labor
7. Nice appearance, safe and reliable usage, all the components of materials meets the standards of PRC (GB/T-1997).
8. Adjustable at peeling skin layers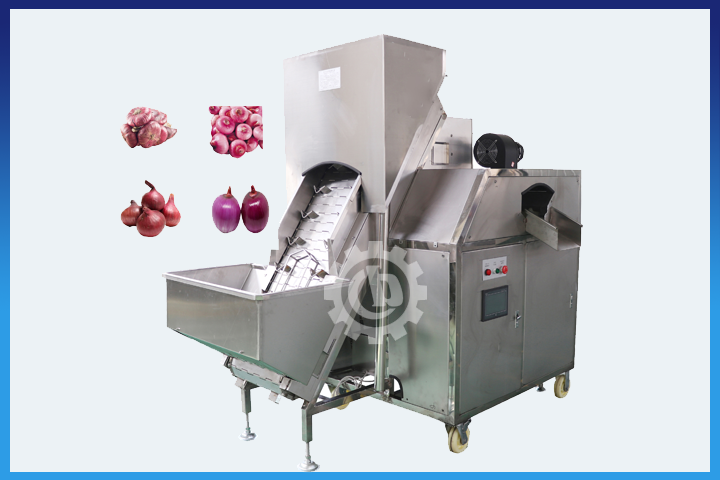 Specifications:
1. Output: around 2700 pieces per hour
2. Powers: 1.5KW
3. Voltage: 380V, 50HZ,3 phase Deceleration motor
4. Need customer to match with a compressor
5. Weight: 245KG
6. Dimension:2100*830*1800mm
7. Air Pressure 0.8-1.0 MPa; 3 cubic meters per minute.
Onion Peeling Machine Working Video: