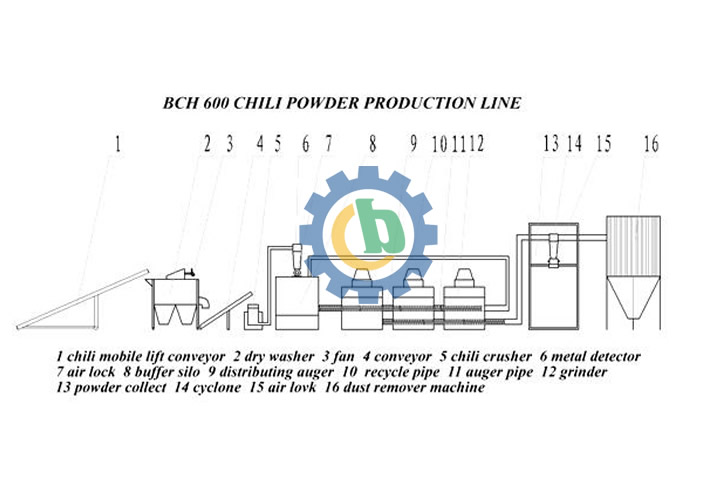 This full set chilli powder processing plant include five sets new type chili powder grinder machine, match with other auxilliary machine, such as chili crusher, conveyor, dust colletor, etc
1. Lift Conveyor for Chili Power Production Line
Diemension: (L*W) 6m *0.6m
Height: 1.7m-2.5m (adjustable/movable)
Power: 1.5kW; 3kw /380V ( can be customized)
Material: angle steel and steel tube; belt is made of PVC material; trough/groove type conveyer
2. Chili Dry Washing Cleaning Machine
During chili powder processing, Clean the raw chili or pepper material is necessary


Specification:
Features: Output: 600kg/h
Power: 5.5kW Weight of machine: around 600kg

Work Theories and Usage:
There is rotary drum (inlaying acrylic brushes) installed in the machine. The light dust will be brushed away and discharge from the upside outlet and the heavy impurities will fall to the two bottom
outlets
3. Chili Crusher
Before send the pepper io the chili powder grinder, we need to crush the chili into small size first. this will increase the chili power grinder output. The chili crusher will crush the chili into 8-12mm size chili.
Specification:
Motor: 18.5kw; Voltage: 380v/50Hz
Output: 600kg per hour
4. Chili Buffer Silo for Chili Powder Production Line
After chli crusher processing, we will store the crushed chili in chili buffer silo, and through this chili buffer silo. We can feed the crushed chili into the chili powder grinder for the following processing
Specification:
Chili silo weight: around150kg
Volume: 500m3
Motor: 3kW
Auger motor: 1.5kw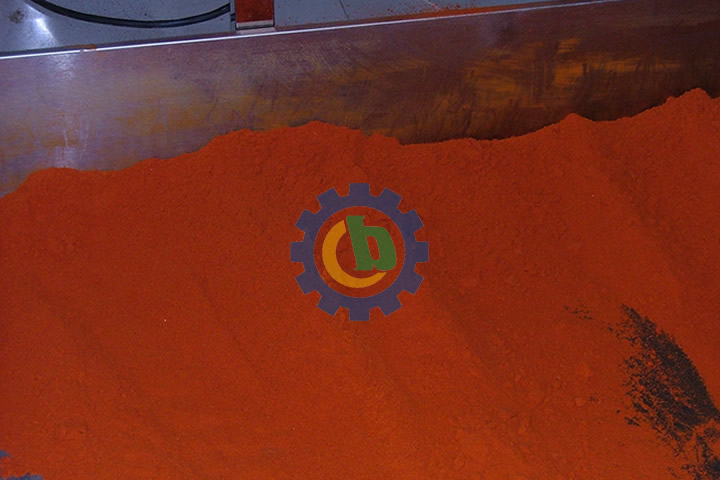 5. Chili Powder Grinder
Chili Powder Grinder is our patent chili processing machine for making chili power. Our product has exported to India, Siri Lanka, Mexico and Chili and get very good feedback
Advantage Feature:
High efficiency with lower power consumption:
chili powder grinder can grind the chili material into 30 meshes to 80 meshes. chili powder grinder machine is special design for chili powder grinding and peppers powder grinding. chili powder grinder machine is equipped with four rollers instead of two rollers. This design makes our chili powder high efficient and low power cost, bcircumstances, its output is 2 times more than other general mill machine.
Special design round sieve: chili power grinder round sieve is built in the main body, which is two times longer than normal sieve. So, chili powder grinder round sieve can avoid the block problem during runing.
Reasonable design: chili powder grinder round sieve is equipped on sieve frame. It is very easy for customer change the sieve to get different mesh chili powder.
Full automatic: chili powder grinder has high degree automation with low running cost. This design will help factory to save a lot of labor cost.
Adjustable roller gap: chili powder grinder two pairs roller can be adjusted according to customer's requirement. this make sure the output of the full chili
powder produciton line
6. Dust Collect for Chili Powder Production Line
During the chili powder grinder process, there will have many micro chili power, which will not fall ,becasue chili power size is too small. and chili powder is special spicy , it will many the worker feel terrible. So we equipped Dust collector to collector these micro chili powder , so we can get more quantity power and get very good working enviroment.