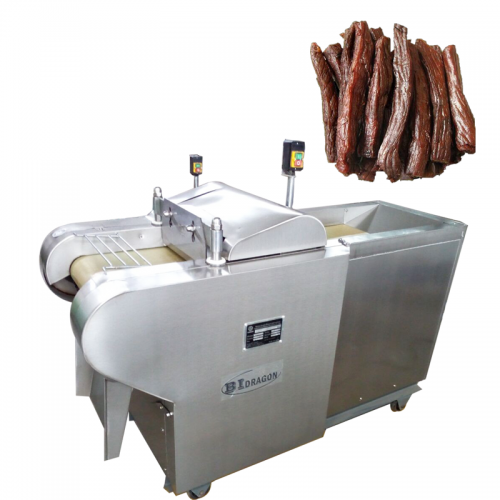 This beef jerky cutting machine is completely simulate manual cutting process design, cutting knife up and down movement, the cutting size error is small, fast speed, suitable for cut dried meat into strip or sections. Machine is food grade belt and also stainless steel, easy operation.
Technical Parameters:
Model:BVC-1000
Capacity:200-300kg/h
Slice range:2-25mm
Voltage:220V,single phase,50HZ
Dimension: 1300*510*1000mm
Weight:170kg

Beef Jerky Cutting Machine Features:
It is simple, easy maintenance, adaptability, is an ideal machine for beef jerky slice cutting processing.

Main Structure:
This machine mainly composed of machine body, conveyor belt, and material pressing belt, slice structure, speed control box or a tower wheel speed controller.

Working Principles:
Vertical knife is for cut sliced piece into different specifications. Chopping length by an adjustable eccentric wheel arbitrarily adjusted within a certain range. Because vertical knife simulate Hand- chopping principle, process smooth surface, forming rules, cut organizations intact, to keep fresh.

Beef Jerky Cutting Machine Working Video: