Chilli-Powder-Manufacturing-Machine
Output:150-200KG/H
The total power:16.92 KW
Material:SUS201
Content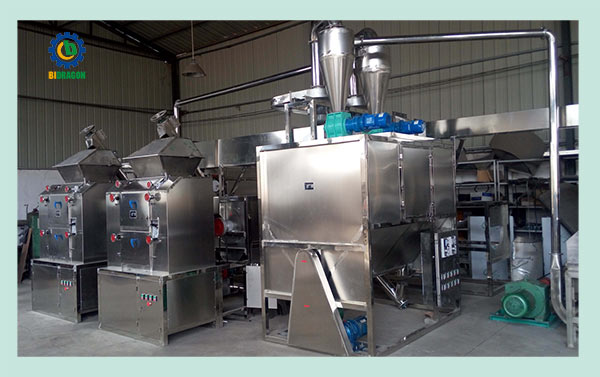 Processing Flow Chart for Automatic Chilli Powder Manufacturing  Machine :
Conveyor —–chili dry washer—–conveyor—–chili crusher—–trolley/buffer silo (optional) —–chilli grinder unit—dust catcher (optional)
BCH 200 Type Chilli Powder Making Machine
BCH chilli powder manufacturing machine is the patent machinery, by adopting the roller milling type producing spice powder. It can be applied to many less oily spices, such as chili ginger, garlic, pepper, fennel, cumin, turmeric, etc.
Newly updated grinder is more convenient for client to use and already exported and using in several countries, like India, Sri Lanka, Malaysia, Mexico, Nigeria, Bangladesh, Rwanda, South Africa, etc. We can provide customized configuration and provide related machineries.
Main Technical Parameters:
1. Output: 150-200KG/H
2. Size: 30-50mesh/270-550Micron(feed inlet less than 10mm)
3. The total power: 16.92 KW, 380V, 50HZ, 3 phases.
4. Material: SUS201
5. Including six motors, one electric feeding trolley, auger pipe and cyclone
More Spice Processing Machine